So, after i drew some sketches for Angband costumes and started to imagine actual scenery I thought how random backgroundscenes in Valinor could look like. I tried to work in as many of the costume designs Anastasia drew or you people have uploaded and seem to like. As we don't yet have full depictions of Costumes for the Valars posses I had to combine many elements from various concept art, sometimes I took a bit from this costume, sometimes I took that Hairstyle... anyway it's not about costume design here but rather a mix of scenery ideas and possible settings.
Naturally it's just sketches, so I don't have much detail, and quite frankly I'm not good at fashion designs. So this is more about the overarching feel of such a scene or situation.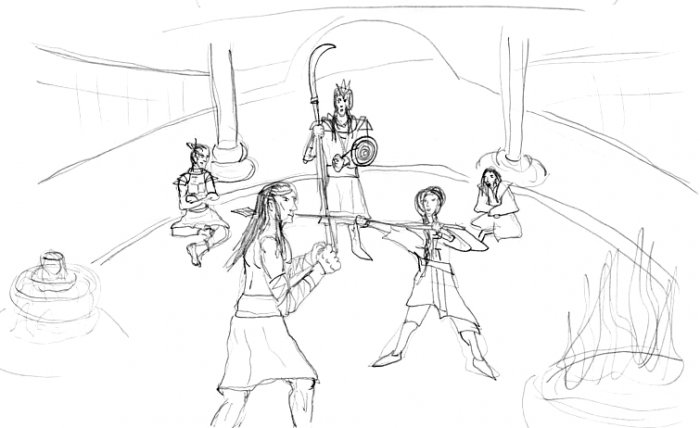 This is a scene at Tulkas' Dojo. It could well take place in the wide court outside his Halls.
I imagine the disciples of Tulkas sitting on the floow in a circle and watching the sparring-matches of Tulkas' Maiar or his Elven-disciples. I think i like the Idsea that Galadriel, of whom we kinow that in her youth she was into Sports, fighting and athletic feats, one day showed up after Tulkas had just finished off a few opponents and fought with him, Tulkas was faster and stronger, but Nerwen was agile and could trick him and trip him up, after he fell she gave him her hand to help him up abut she likes to play a joke on the unsuspecting Vala and overtrhorws him again. Everybody suddrnly is silent and Makar can hardly halkt bis breath while Tulkas suddenly starts to laugh his head off.
In this Scene however it#s just two random Fairies fighting, one fights Tulkas-style, no weapn but an iron-gauntlet, the other fights Measse-style with Spear and Buckler. And in the Background there#s A Maia armed Makar-Style with Bill-hook.