ok. I#ve never before tried to design costumes, i don't know anything about it, but this should be a try.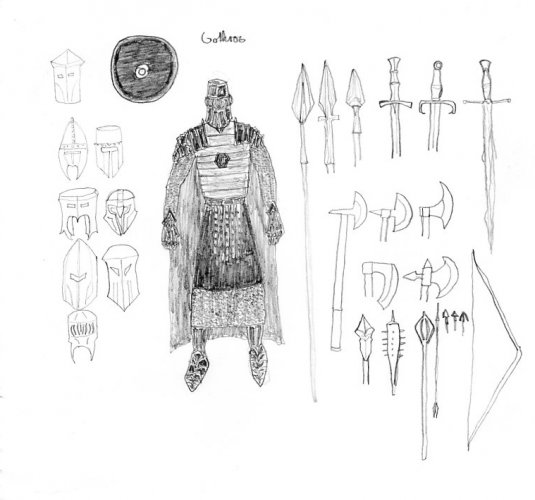 This is the Armour of Gothrog, Soldier of Angband. This could be one of many more or less faceless Soldiers at Morgoth's court.These Gothrogs would not be Orcs but lesser Maiar, they are spirits of Violence similar to Makar and Measse and they could possibly have once been Hunters of Orome or Followers of Tulkas whom Morgoth corrupted. I wanted faceless Warriors, redshirts one could kill off if one doesn't want to sacrifice one of the seven Balrogs, so here's a breed of lesser Warrior-demon. There would not be lots of them, not loegions or armies, but Morgoth would rather use these as his bodyguard than surround himself with stinking Orcs and Trolls. Sometimes Gothrog could also appear as a lesser Captain or general if Sauron or a Balrog or an Orc should not be used. They could even ride Horses (broken Variations of the Horses of the Valar) or use Chariots if we want to introduce such a thing for Morgoth's captains.
The Armour is more or less based on a mix of Roman Centurio and Crusader Knight. It's not very elabourate or beautiful, i hate horned helmets and other typical cheesy fantasy designs. The Soldier of Angband looks pretty plain and faceless, like he doesn't really have a persona or will on his own. He's completely dressed in black: black helmet, black tabard, black cloak, black ringmail, black ironboots, black shoulderpieces, black gauntlets, black weapons. A bit leather thrown in (he wears something like a lorica segmentata and belt with cingulum over his Tabard and chainmail). His armour is not beautiful but plain and functional. It's more or less a downgraded version of the Black Armour Morgoth or Sauron would have worn. I#ve tried different helmet designs, but I think these Soldiers of Angband would all look more or less the same, with little variation among them. The weapons are all historical models as I reject most of the typical oversized Fatasy-designs. They are typical weapons Tolkien mentions in connection with the dark Lords, Mace/Rod, Sword, Morningstar, Axe, Spear, Bow. I would also like a flail, but i didn't draw one yet.
The designs are also simple and functional and not very elaborate. The Shield is a simple Roundshield, Black Wood, leather and metal frame. No symbol. Morgoth#s heraldly is plain sable.