Following
Nicholas Palazzo
s
thoughts in the Swords threat
I ve tried to briefly sketch the early Elven Warriors: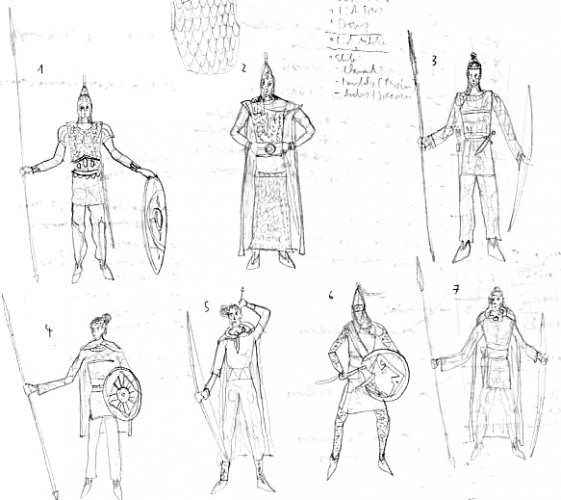 I#ve also tried to include as much from Anastasias costume design elements as I could (with little detail though) but in lack of more different costumes for the classes I had to reach bach for some of the older designs from earlier times of the wandering too. In lack of Costumes for the Sindar i also chose to use some of the older teleri clothes as the Sindar may have dressed similarly.
1 is a Feanorian Heavy Warrior, he wields a long spear, long sword, great Roundshield
wears scale Armour similar to roman one, a high Helmet with a plume and greaves
2 is a feanorian Noble, those who would later become the Knightly class. This one is not yet a horseman.He wears clothing similar to the Hoplite, High Helmet with Plume, long Sword, but no greaves
3 is a Feanoreian light Warrior, he wears linen armour instead of plate and might wield short Spear/Javelin, Longbow and Dagger or other shortblade
4 is a fingolfinian Warrior. he wears a small roundshield and short Spear or Javelin and probably a mid or shortblade. He too wears Linen Armour.
5 is a Fingolfinian light Warrior. No armour and Armed with Longbow
6 is a Doriathrin Elite Warrior. Since i didn't know how we have to imagine early Sindarin Helmet types I chose to give him something similar to a higher version of a Wendelhelm, as i suggest the Sindar may have worn dwarven Helmets or Masks in the earliest days, or at least Helms influenced or much similar to those.
he#s clad in fine chainmail and wields a small roundshield and a one-hand one-edged axe.
7 is a Sindarian Militiaman. No armour or at last only linen armour, no helmet and armed with a spear, similar to brader dwarven-spears, lomgbow and short or mid blade.